If you're really serious about
preserving strength and muscle mass
… doing nothing, walking, pilates, bootcamp, bar class, spin class, light dumbbells and cardio
won't stop the loss
...
... but this

once - or twice - a - week

workout will!
These are MRIs of legs at different ages.
The red is the muscle mass
. As you can see, the muscle mass decreases as you age
UNLESS
you take steps to prevent it. You need adquate muscle mass to be mobile. The #
1 reason
people need assisted living is because they lack the leg strength to stand up from sitting.
If you do not want this to be you, prevent it by making sure you engage in regular resistance - weight bearing exercise and get enough protein.
Higher muscle mass is associated with a speedier metabolism … improved blood sugar control ….sturdier bones … quicker recovery from sickness or surgery … and a ripe old age.
Some of the reasons why

NOT

lifting weights is the most dangerous thing :

~Muscle Loss:

Without regular weightlifting or resistance training, your muscles can atrophy or shrink over time. This can lead to a decrease in strength, mobility, and muscle tone.

~Decreased Metabolism:

Muscle tissue is more metabolically active than fat tissue. As you lose muscle mass, your metabolism may slow down, making it easier to gain fat and harder to lose it.

~Weakened Bones:

Weightlifting helps to improve bone density. Without resistance training, your bones may become weaker, increasing the risk of osteoporosis and fractures, low back and neck issues.

Exercise Solution

has the

proprietary computer Pacer software

on each exercise machine which makes sure you do the

slow motion weight training program

in the safest and most efficient manner thus reducing the total time you need to weight/resistance train.

Only three other workout studios

in the world currently have this software on their exercise machines. Be on the cutting edge by taking advantage of the

free trial sessions

to come into the studio to see how you can get maximum results in one or two weekly 30 minute workouts.

For more information visit ExerciseSolution.com or email at johntatore@yahoo.com text/call 203-249-3937 "" Only One Trainer and One Client in a Totally Private workout space ""
The Details ... start below ...
Let
Exercise Solution
, llc, a totally private
Strength Training Studio
, provide you with one-on-one exercise instruction utilizing the safest, most advanced techniques to create the most efficient and effective strength training exercise ever.
Servicing clients from Stamford, Greenwich, Darien, New Canaan, Norwalk and Westport area
since 2002
.
Why Choose Exercise Solution for your strength training?
Operating since 2002
, specializing in productive, safe and joint friendly exercise for people who want to get stronger and/or increase muscle mass and bone density. Exercise Solution has worked with teenagers up to 80 year old clients who want more strength for better golf and tennis play and/or people who just want to be in a stronger more enduring condition for everyday life events. It's never to late to start receiving the benefits but the sooner you start the more you stay ahead of losing strength, muscle mass and bone density. Our training methods are based on solid scientific research with over 40 years of practical experience to back them up. The mostly Over-50 year old clientele have more special needs. Exercise Solution has solid experience working with all types of clients and client joint issues ranging from artificial joints (Knees, Hips and Shoulders), neck and lower back disk issues to shoulder, knee, hip and ankle tendinitis. I always tell my clients ... "If you can get to me I can train you ... and if I can't I won't charge you ". Hey if you don't have any joint issues we just go a little harder and faster from the start .... intensity is based on individual needs and goals.
PRIVATE SETTING / FULLY SUPERVISED
Only one trainer and one client
… in the clean, temperature controlled studio during your session at all times. Studio is kept cool so you won't overheat while you work out (very important). Due to cool setting there no neeed to shower afterwards and you could actually work out in your regular daily cloths if they aren't to tight. Your trainer is there instructing and supervising you for every exercise the whole training session! The studio environment is based upon one goal… total focusing … in order to bring the exercise to the level which yields results you must focus which is impossible in an atmosphere full of music, chatting and on going movement. When you arrive all machines and computers are set up ready for you to start your workout. Your instructor seat belts you in ... adds additional pads if needed …on the different machines ... and you are starting the most productive safest strength training you can get ... anywhere.
INFREQUENT BRIEF WORKOUTS
Once or Twice Weekly Workouts
lasting no more than
30 minutes
each. Using our cutting-edge proprietary computer software, that monitors form and provides real-time feedback, you will get
maximum results in minimum time
. There is no need to go to the gym three times a week for over an hour each time. That is an outdated way to train and a big waste of your time and energy. When it comes to strength the quality and intensity of the exercise is what generates results, not the volume of exercise being employed. We do not follow the latest unproven fads in exercise; instead our philosophy and approach are scientifically based and produce real results. Exercise Solution has been providing a more efficient type of higher intensity - lower force - slower speed of movement workout since 2002. But now with the computer software the ease of learning and performing the exercises are foolproof. If you are willing to work hard for 20 to 30 minutes, done safely, we feel confident that you will truly value the results you achieve in the minimum time that you have invested. I'll leave with this comparison ... you spend on average 6 minutes a day brushing and flossing you teeth ... that's a total weekly time of 42 minutes ... so why not spend that time or less a week maintaining your strength and muscle mass.
Does the program work … as long as you remember these four words:
brief, intense, infrequent and safe
. The instruction, equipment and environment are all set up to support those four key words. It's the high level of muscle stimulation which causes the body (muscles, tendons and bones) to adapt and get stronger and it's the adhering to the form, of the exercise, which keeps it safe. Adhering to the form, while working hard, is now automatic when using our
cutting edge exercise guidance software
. Most trainers allow sloppy form when the exercise gets harder reducing results and increasing chances of injury.
Feedback Dynamic Exercise (slow movement):
Why move slow? … because it is both safer and more effective. Slower movement reduces acceleration which keeps your joints safer and the reduction of acceleration keeps more constant tension on the muscles (a good thing). By moving very slowly you can work extremely hard without sacrificing safety no matter what age or fitness level you are at. Now getting people to focus on moving slowly all the time isn't an easy task. But all this has changed since the pacer software was added to the exercise machines. This entails computer software which sets the pace (speed) of movement to follow on the computer display screen. Staying at the constant slower speed (staying on pace) will aid in learning the exercise faster and produce maximum results quicker. The pacer software actually provides a compliance numeric score, for each exercise, which tells you how much of the time, while moving the weights, that you were staying on pace with the pacer. The higher the score means the better the form and more importantly the better the strength increasing results.
Feedback Static Contraction Exercise (non movement):
This is an updated way to do static contraction (isometric) exercises. The use of feedback while doing the static exercises has brought this type of exercise to the highest level of results. No more guessing … you see your muscular force being generated right there in real time on the screen. The screen displays an X Y graph with X being the time you're performing the exercise and Y being the force your muscles are producing. The client traces, in real time, a red line upwards (about 5 to 10 seconds) from zero force to the target force number being used and then try to stay there (hold the straight horizontal line) as long as they can. Total time from start to finish is 90 seconds. Static exercise is the simplest exercise to learn and it is by far the safest exercise since there isn't any movement around the joints. Whenever a client has any inflamed joint issue static exercise (non movement) can be used where movement exercise would cause more harm to the joint. We acknowledge that we are - by our nature - achievement oriented and exercise is by no means exempt from that. Feedback static exercise aids the ability of the client and the instructor to not only perform static exercise with precision, but to also complement our ability to make incremental progression over time, to effectively test the treatment of injuries and debilities below pain thresholds, and to promote higher levels of proficiency of any given exercise.
Feedback Dynamic Exercise (slow movement) VIDEO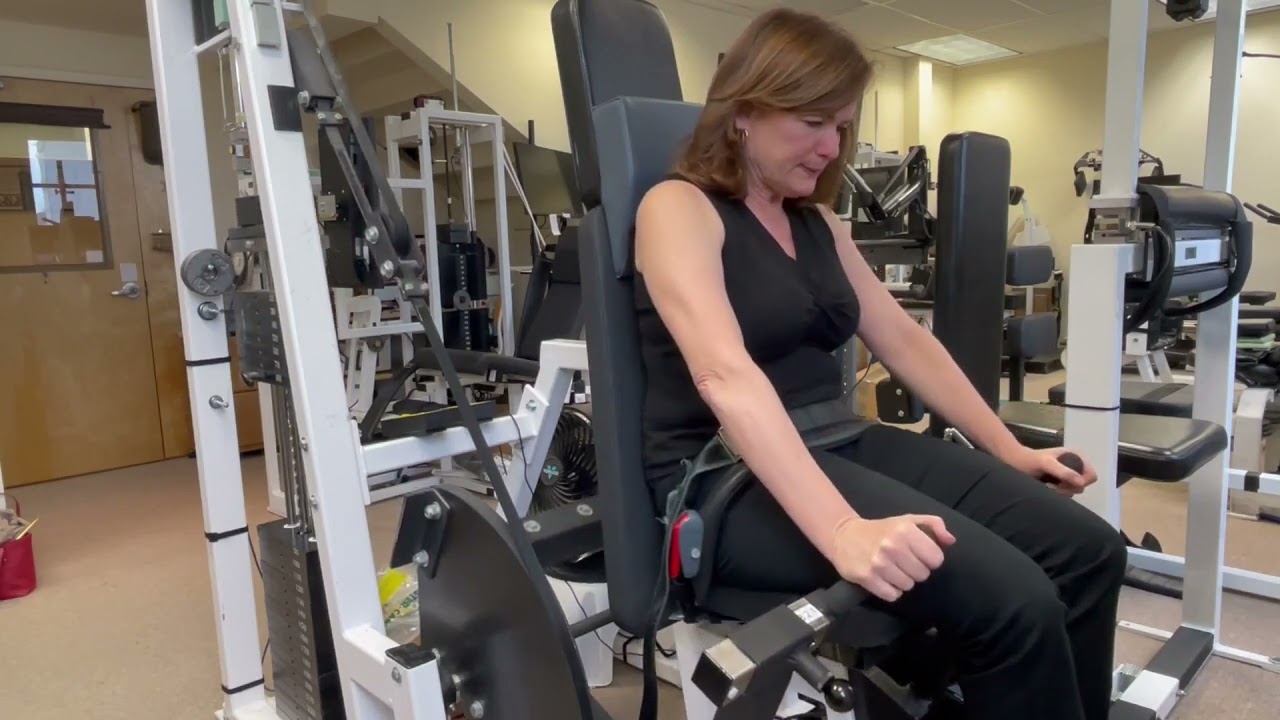 Feedback Static Contraction Exercise (non movement) Video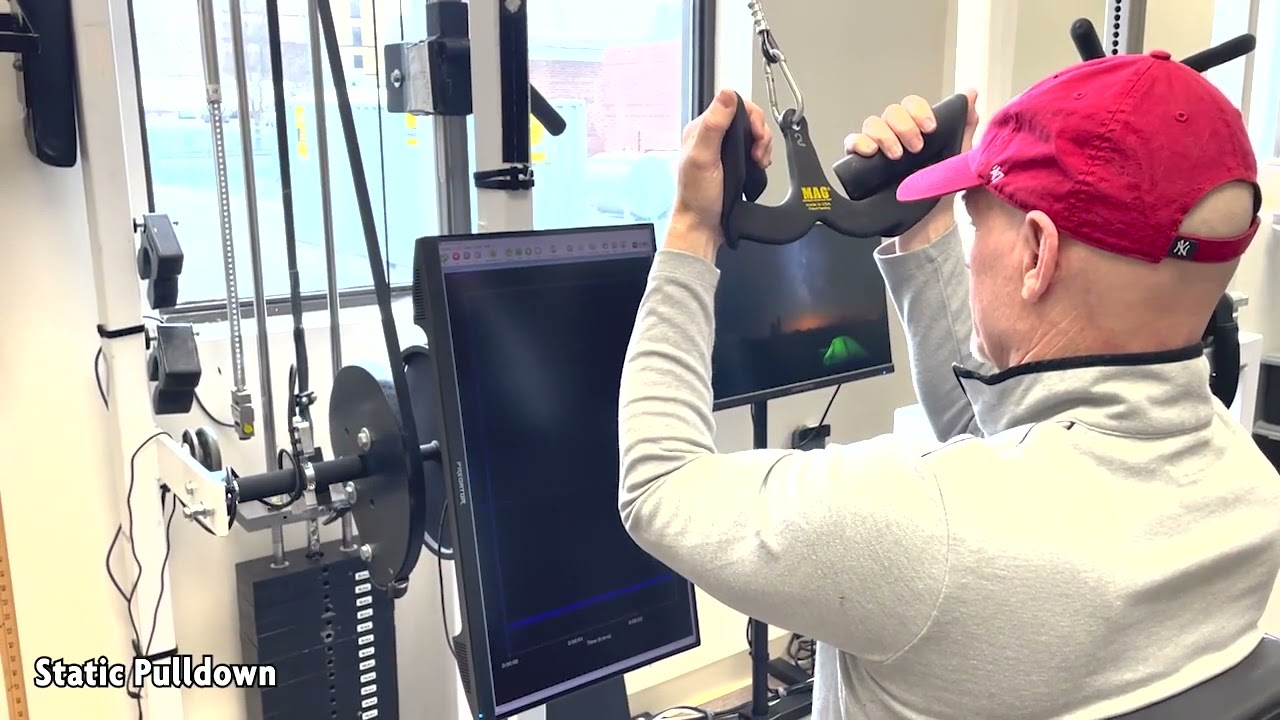 Portable (P.U.S.H.) STATIC CONTRACTION EXERCISE (NON MOVEMENT) VIDEO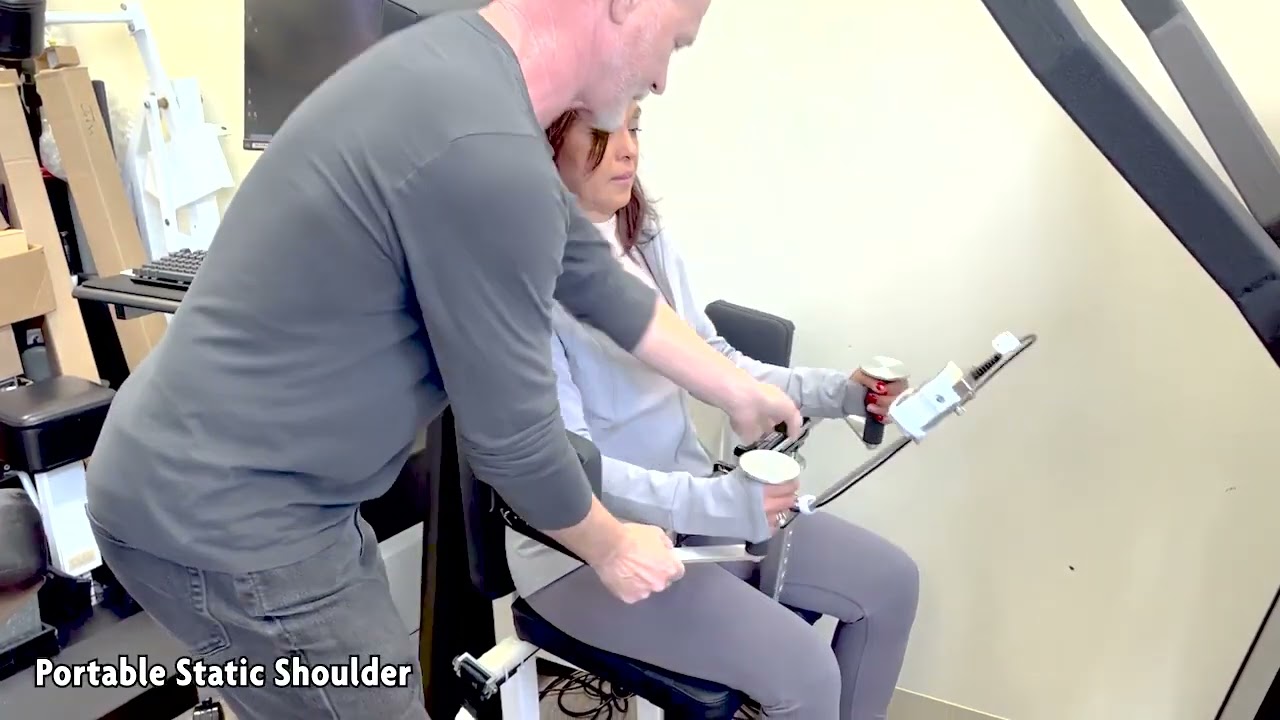 Words alone cannot describe the experience of using the pacer feedback and static feedback software. Feedback guidance exercise in real time on a screen needs to be experienced in person. It's truly the future of exercise for obtaining better results in strength, endurance and injury prevention in minimum workout time.
If what you have read above is of importance to you ... and you're serious about your health and well-being ... and you want to get stronger muscles and bones ... and value your time ... then
call/text 203-249-3937
or
Email johntatore@yahoo.com
... to schedule your
no cost - no obligation in person consultation/trial session
... to see what this strength training exercise guidance software program is all about.
It's worth a hour of your time to learn how you can get maximum strength training results without investing so much of your free time!
• Heidi Coleman
For years, I've tried to get into a regular exercise routine but I never enjoyed spending much time in the gym. Once I turned 40, I realized I could no longer rely on the occasional workouts I was getting without losing some muscle mass. John's program was the perfect solution for me. By committing only twenty minutes, once a week, John has helped me get into the best physical condition of my life. John's one-on-one personal training helps me get the most out of the time I spend in his gym. He helps me stay focused on my form and my breathing, which also enables me to work out with the heavy weights safely. John also keeps me moving quickly between machines, so that I can benefit from a higher level of conditioning. Because of John's specialized knowledge and excellent training skills, I know I've found a program I can commit to for life.
• Jill Kinney
When I think of all the hours per week I used to spend trying to stay in shape, it seems like such a waste of time. Do the math -- two hours strength training per week plus 45 minutes of aerobics three to four times a week -- that's five hours a week. I am stronger now than I have ever been in just 17 minutes a week. I still do some aerobics, but the big difference is that I'm doing aerobics I enjoy like playing tennis, gardening, and walking the dog. My tennis game, especially my serve, have improved a great deal. Another thing I really appreciate about John is that he has been able to adapt some of the exercises so as not to aggravate my tendonitis. Though he pushes me hard to do my best, he's always been very careful not to make an injury worse. I can't imagine going back to the old workout!
• Brad Barton
The reason I started Super Slow with you was because I wanted to be in shape and hopefully lose some weight in the process. As I got in to the program I realized that it would also help cure some of my common ailments such as my bad back while also helping me with my favorite pastime golf. What initially got me interested was the fact that it was one workout for 30 minutes once a week. I had tried the fitness clubs and had not found that I had any consistency or achieved any better fitness from them. Over the time that I have been in the program I have lost about 10 pounds to about 195 which is in my range for a person 6'3". I have also changed some of the other weight from fat to muscle and generally feel stronger and in good shape, especially for somebody 61. I have also improved my golf game where it is now equal to friends of mine who are 15 to 20 years younger. Although the workouts are hard it is only once a week and I can see results which makes the effort, time and expense worthwhile.
• Kent Reilly
Just a quick note of thanks for all you've done for me over the last three years. As you remember at that time my primary goal was to find a training plan that would accommodate my weekly business trips. It has certainly proved to be true that "thirty minutes a week" is enough to improve my overall health, feel good about doing something for my aging body, and still get to the airport on time! I've also shared with you, but want to reiterate, how nice it was to go snowboarding with my teenage son -- for the first time -- and not only have the strength to perform, but the strength to NOT ache all over the next day. I know that without SuperSlow I would have been a wreck! One last point... I don't work out to 'meet people' or socialize, so for me the closed, one-on-one training allows me to exercise without worrying what 'that person on the next treadmill' is thinking. I like the discipline and focus required with SuperSlow.
• Julia Hurley
As a working Mom I found I was not getting to the gym and to exercise classes on a regular basis and when I did go I did not feel I was getting the benefits I was looking for. I tried SuperSlow under John Tatore's instruction 3 1/2 years ago. What I love best about my weekly appointment with John at Exercise Solution is the fact that I don't have to keep track of weights or reps. John takes care of the fitness program and I spend all my time and energy on doing the exercises slow and with good form. I love the fact that I have gotten toned and feel that I am doing it in a safe method where I don't risk pulled muscles or injuries. I really appreciate being able to exercise then change and go right to the office. Weekly SuperSlow exercise has become part of my routine and I look forward to going to my appointments each week. I also have found I have better strength and endurance while doing other activities with my family like skiing, tennis, golf and water sports. SuperSlow is the perfect exercise for a busy person like myself with work and family commitments who want to maintain strength and muscle tone.
We are located at
2001 West Main Street, Suite 145 (First Floor) Stamford, CT (1/8 mile from Greenwich Hyatt).
DOCS Urgent Care is in the front of the building so you must go to the rear of the building's parking lot (by either Alvord Ln. or Myano Ln. ) and enter through the rear doors closer to Myano Lane. After entering the rear doors make a left turn than a right turn and you will see my entrance door straight ahead ... do not walk up stairs.
Feel free to call, Text or Email us And Please Take Advantage of your

In Person

no cost - no obligation

consultation/Trial Session